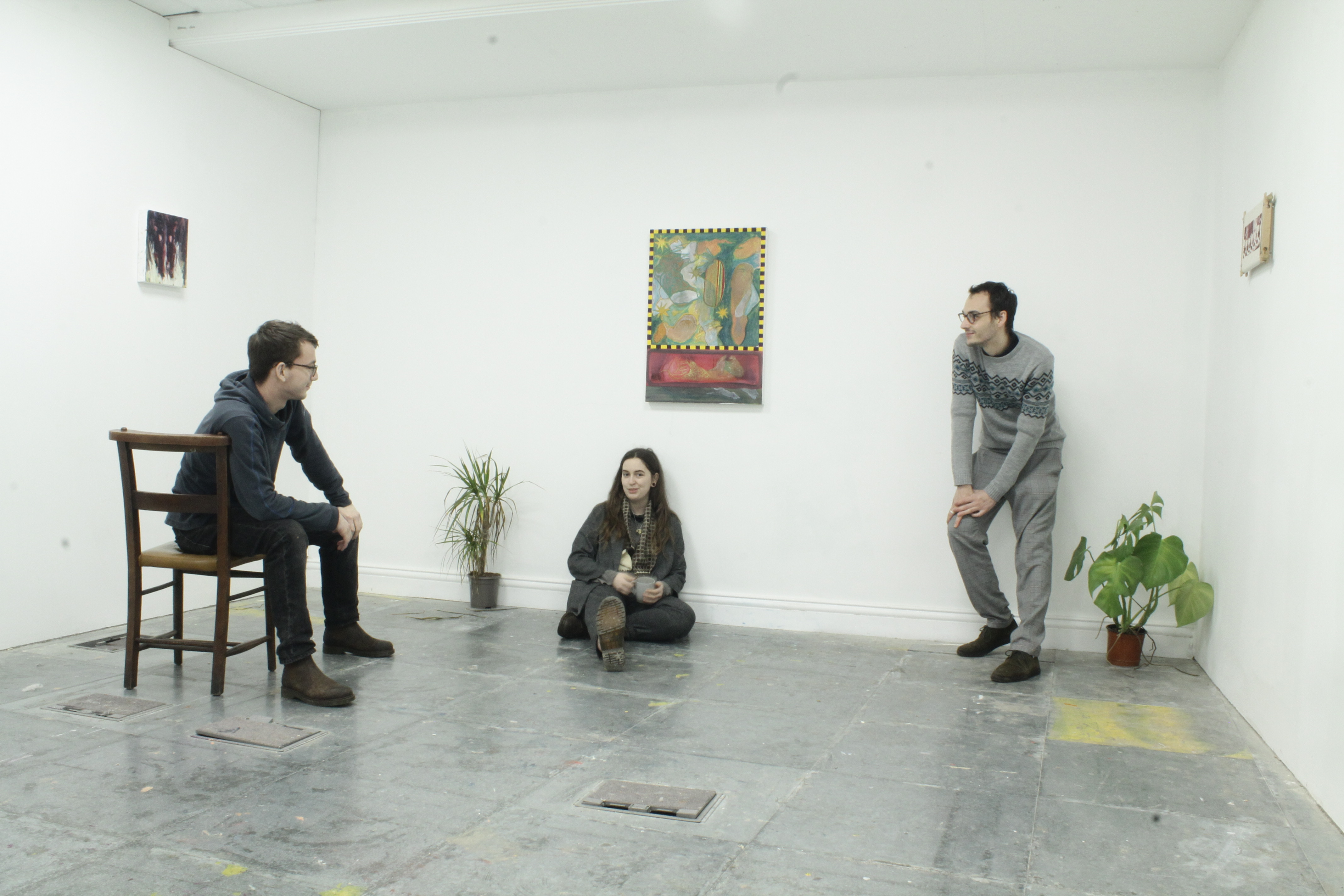 WITH
MARK BLETCHER
OLIVER HOFFMEISTER
ABI HAMPSEY

RECORDED @
NEWBRIDGE STUDIOS,
NEWCASTLE
23/01/2020

TOTAL TIME:
10 MINUTES
04 SECONDS

Image: Untitled, 2020, Fabric Dye and Canvas on Cross stitch stretcher , 39 x 23 Oliver Hoffmeister

Oliver…

...What are we looking at?

Materials:
Canvas on Cross stitch stretcher, Fabric Dye.

Subject:
In terms of image, this is a trophy arrangement. However, I have not yet grasped an understanding of the significance of this subject matter with regards to my current work. It most noticeably is an image referencing 'Play' or the notion of 'Game' but to what end I am unsure.

Technique:
This has been an experimental piece, as is shown by its odd construction (meant in the literal sense). It is a canvas stretched on a found stretcher, which happens to be a cross stitch frame, that has been dyed to form an image.

Does that painting have a title, or any other external context?

This piece is currently untitled (I am not sure whether to leave it untitled or to name it).
It is a piece that is to be shown in an exhibition I have in April in the gymnasium gallery responding to Berwick Upon Tweed. I have been collecting images and researching about the local area of Berwick, mostly through internet searches rather than in person as I can't sustainably visit Berwick Upon Tweed. This image in particular is from a British Pathe reel documenting 'The 5th annual Lawn tennis tournament for champions of North Northumberland' held in 1922.
The exhibition is yet to be titled; It is untitled. It is to be centred around 'Games' and 'Play' as the gallery was once a place for play in the literal sense, and is now a space for artistic play. The artistic play I aim to show will pull from a wide range of Berwick Upon Tweed's historic background, with re-imaginings of past events.

Why did you choose this painting for discussion?

I have choose this painting as I believe this to be the most interesting work, to date, I have made with regards to the upcoming show in Berwick Upon Tweed.
Since graduating (nearly 2 years ago) I have not partaken in a crit regarding my own practice/work and therefore it is a necessity and a privilege to have some formal discussion regarding my work again. I believe this piece is symptomatic of my current practice and, as such, I think that it would be beneficial to my wider artistic practice to hear others perspectives regarding it.

Ultimately I am unsure with a lot about this work.

00:01

Oliver

This is a cross stitch.

Mark

What is a cross stitch?

Oliver

It's like a weave type thing that people do. They do them with different colours and they build up like this, pretty picture with squares.

Mark

Oh yeah, I've seen them. Nanas usually have them in their house.

Abi

They often have church quotes on them.

Oliver

I just thought it would be interesting to use...

Mark

It is!

00:35

Abi

Absolutely, Loaded. But not here. It could be a loaded object but I'm not getting that which is good I think. It's hard to take a found object that already has a use and it not instantly remind you of that. Maybe because it's not that common.

Mark

It's really out of its territory because if you're familiar with the object you'd recognise it immediately but most people wouldn't.

Abi

It looks like a scroll to me, more so than what it actually is.

Mark

The nice thing about it, the lovely thing about it compared to ordinary stretchers, is that the canvas has a natural cut on either side, and has this lovely roll over the top rather than a sharp edge. It gives it this suggestion of 'there are a lot more reels of film on this', you can just turn it and there will be like the next shot. It gives it a family album, nostalgic vibe.

Abi

Which is super relatable to where the image comes from and where you're getting your images from. I thought in your primer, you've not gone to Berwick consistently to collect these kinds of images. Do you think that has affected the avenue of enquiry that you've had?

Oliver

Yeah probably. If I was to go to Berwick it would be limited in what I can find. Maybe archives, and bits and bobs. Other than that, it would be very much...

02:16

Abi

Photos on your phone, photos on your camera..

Oliver

Yeah, it wouldn't be as interesting as these historical things that are able to be found on the internet. It's much better as an outsider to be doing it from an outside perspective in terms of "this is what I can find on the internet, I'm not from Berwick upon Tweed". I don't have the knowledge that most people would have, but it somewhat works better.

Abi

I don't think the people there would know about this subject either, potentially. I like the angle you've come at it from. I've been to Berwick and so has Turner and we've seen what he painted and it's not the most enthralling thing. The images you would get would look like any other small English seaside, border town.

Mark

When you're not familiar with somewhere it's really easy to fall into the first cliché of what you see. You go there as a tourist and paint the tourist sites. Whereas this is very not that.

It's very playful. Is it all painted with fabric dye?

Oliver

All of the actual tone that you see is fabric dye, so this is actually just canvas there's no paint on that at all. That's just unprimed canvas and it has been dyed to varying degrees.

Mark

You put it on with a brush?

04:23
Oliver

Yes, so I painted that on, very slowly. It absorbs the dye, you leave it to dry and go over it again.

Abi

I really like it. It's watercolour but on canvas.

Mark

It doesn't have that extreme harsh light feel of watercolour and it's very nostalgic because of the sepia tone. It's very mellow yellow, and the trophies are fun! They look a bit haunting, this is a bit goth-y too. They look a bit lost and forgotten about and they're all whited out as well, the trophies. Big nostalgia vibes.

07:00
Abi

I mean what are they going to win? So many winners! For lawn tennis? What is lawn tennis?

Oliver

It's just tennis on grass, in 1922.

Mark

It's a lot of trophies for tennis...

Abi

It's a fun subject matter that doesn't try. It could have gone so many ways I think. Like I said in the beginning, you've used a loaded object, and you're showing in a school gym. There is so many canons and you've avoided all of them. Which I think was probably quite hard.

Mark

It's quite silly. It's like a load of trophies on a bench. It's a very silly image which is fun.

Abi

With the fun thing though, being devils advocate, not that everything has to have a reason as to why you've done this, but is the sole reason you've done it on a cross stitch and you've inked onto it... is it purely because you found it and you thought it would be fun?

08:18
Oliver

It was purely that child like playfulness. I saw it in a charity shop in Berwick upon Tweed, thought that might be interesting to use. Bought it for like four pounds or something and brought it home, started stitching some canvas on it, it worked and from there I was like "I can't paint on this because if I do that it's just a painting again. There was no point of doing this".
My housemate Jack uses dyes to dye the entire of his canvas and then he takes back the dye. I was thinking it might be interesting to do it the opposite way around. I'd never thought of canvas as literally a material you can manipulate, stitch together, cut it out. Do whatever. It's always just been put some primer on, put some paint on. It's more of an experimentation into the material.


(…)

09:11

Mark

Is it all done with brushes? Or is it like masked with things?

Oliver

You mean down here?

Mark

You have really tiny brushes, there's some really nice clean lines.

Abi

Maybe you should borrow some for your work.

Abi

Are there any other paintings in that are going to potentially be in the show that are on experimental stretchers and frames?

Oliver

Yes.

Abi
So it's not a stand-alone work?

Oliver

No its not standalone. Once I did this, it has opened up an avenue to link up my monoprinting and my canvas together because I can mono print onto the canvas and use that to then stretch.

The one problem with the space I'm going to display in is it's very damp, so I can't hang paper in there especially the thin paper I use for the mono printing. It will stretch and breath, so I could do it on canvas or you can frame it. But I don't want to frame it.
So I'm trying to work around it in a playful way.


(…)

09:42
Mark

It looks a lot like a print, it's not painting in the typical sense as in everything is a bit wet on wet no matter what you do, it's always still a bit wet. You can pull the paint underneath.

This work however is very additional, which is very much like print making, there's no subtraction like in painting.

Abi

I feel like, there's lots of scope with 'this'. I really like it.