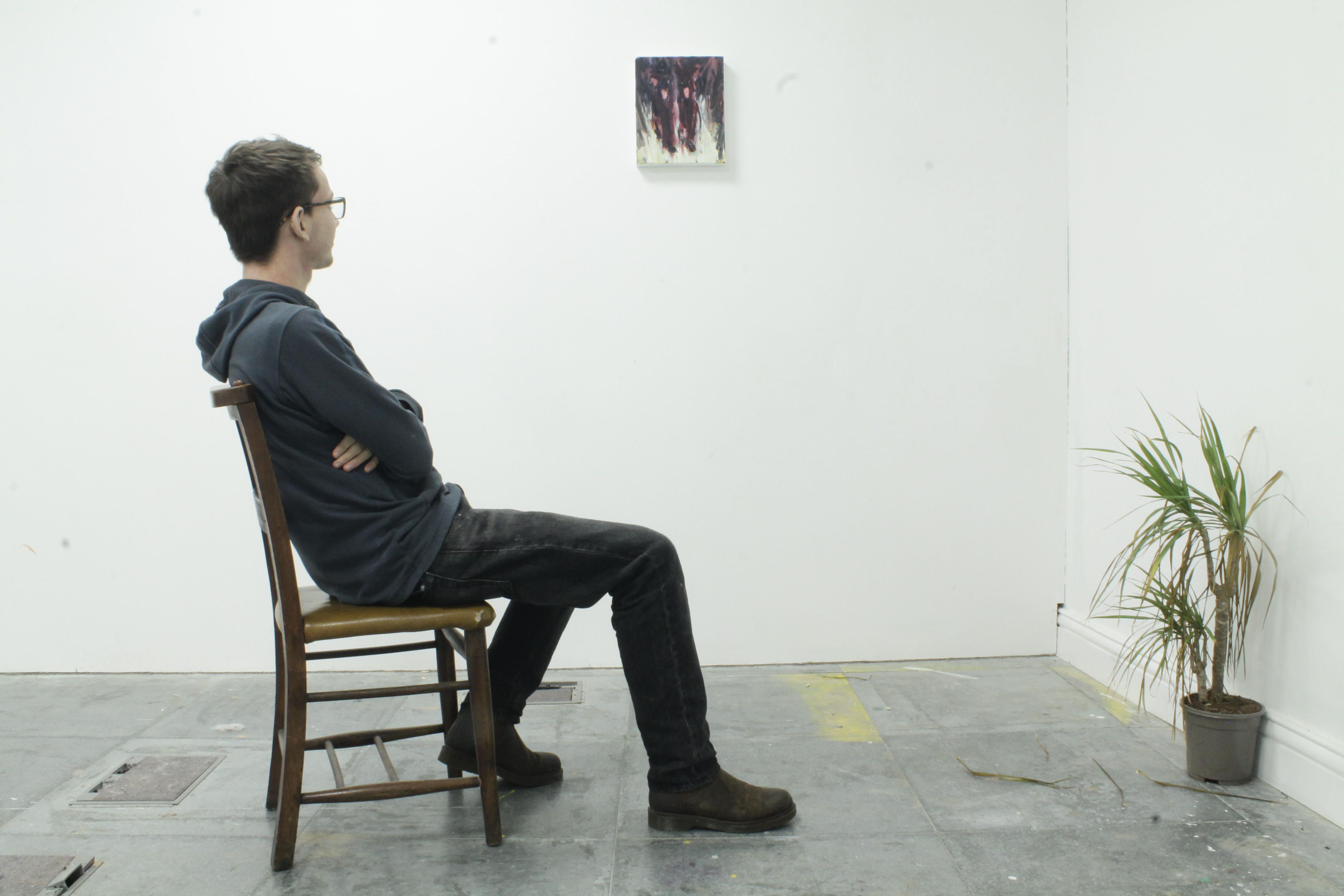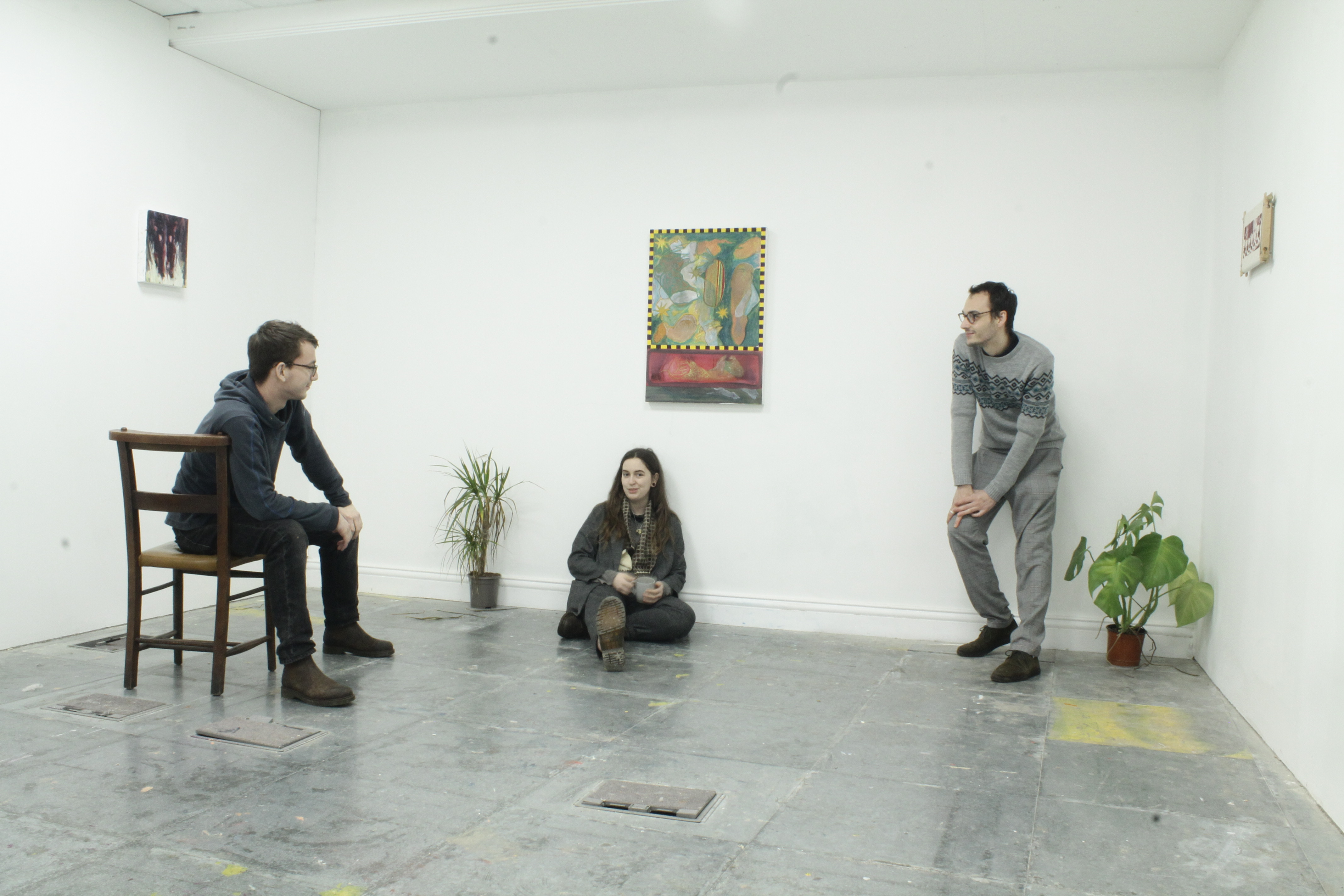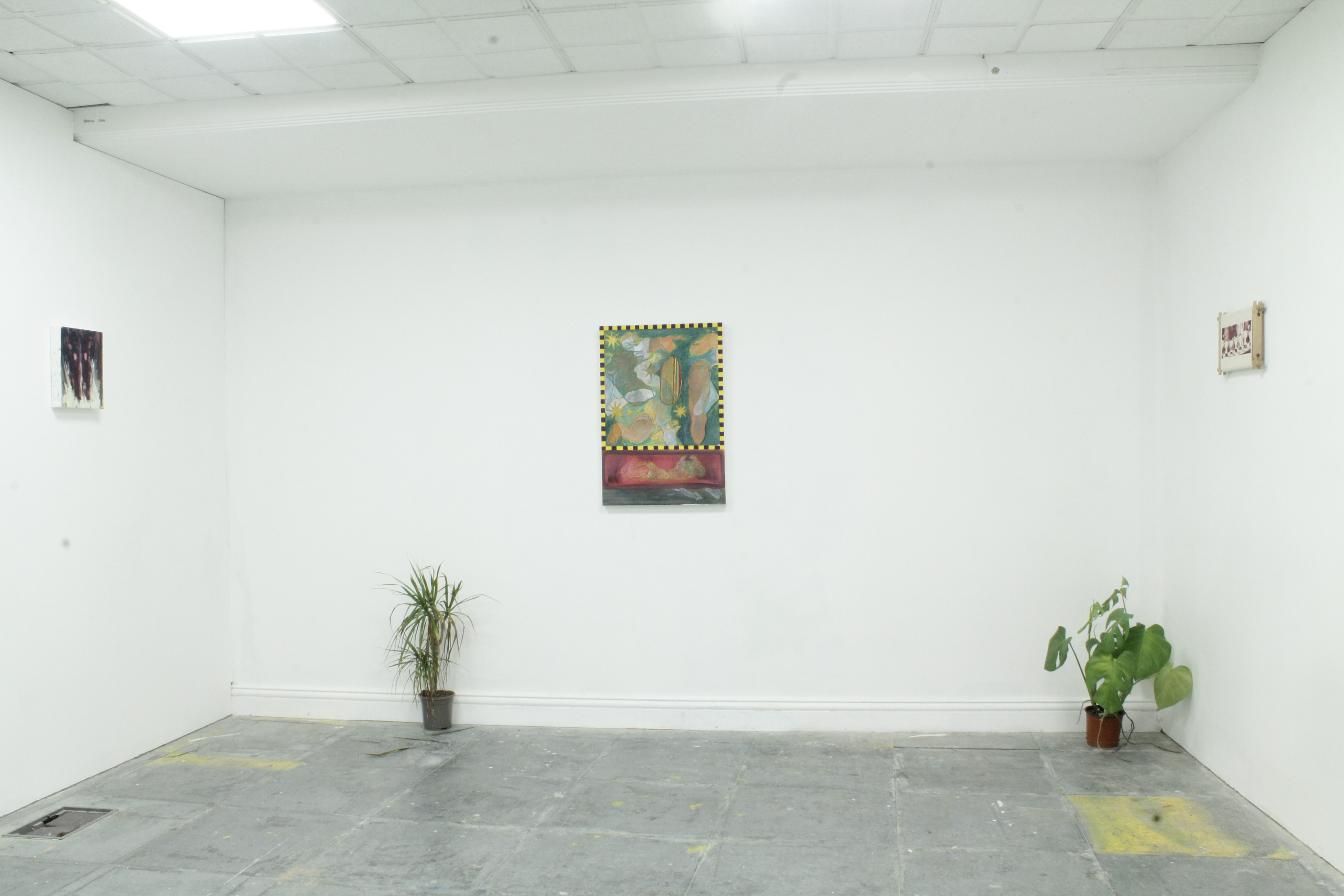 WITH
MARK BLETCHER
OLIVER HOFFMEISTER
ABI HAMPSEY

RECORDED @
NEWBRIDGE STUDIOS,
NEWCASTLE
23/01/2020

TOTAL TIME:
08 MINUTES
26 SECONDS
Image: Black Dogs, 2020 Oil on Canvas, 30x24 Mark Bletcher


Mark…

...What are we looking at?

This is a recently completed painting. It's oil on canvas and a lot smaller then my usual work at 24x30cm. It features two roughly rendered dogs in tones of red, orange, pink and purple.

Does that painting have a title, or any other external context?

The title Black Dogs refers to the Ian McEwan novel of the same title. It's a fantastic story and explores the seemingly sudden collapse of a relationship after a later mythologised encounter with two black dogs. The husband clings to his rationalism and the wife embraces mystical thinking.

Black Dogs also relates to Churchill's mythologized (and debated) 'black dog' of depression and Led Zeppelin's classic song.

Why did you choose this painting for discussion?

I brought this painting today because it's still quite new to me and fresh in my mind. I'm enjoying the imagery of the dogs and want to explore it more, especially given it's rough technique and the depiction of darkness. As depicting a deep darkness is something I am fascinated by.


00:01

Abi

Is there anything in particular you want to start at? Or should we just go at it?

Mark

No, just whatever...
I'll talk less, I guess. Unless you ask me a question!

Abi

Cool.

Oliver

Personally, I like it.

00:26

Mark

Thank you! That's on the record now...

Oliver

Shit... Well I like the freeness of the mark making.
I like the sort of subtleties as well as the way you have put paint on. Yeah, I like the colours. I think that you've worked well with being able to distinguish two figures in the darkness, because that's very difficult.

It works nicely on multiple levels because it's also quite abstract, so it leads you into having to look... you have to particularly look at it in order to almost decode what it's trying to show you. Because when I first saw it you'd went into the studio, I saw like two people, two like samurais.

Mark

*laughs*

Oliver

I saw like two faces, the like samurai helmet, the armour..

Abi

Oh yeah!

Oliver

That's what I saw...

Abi

Like a wizard cloak kinda thing... Very big face vibes.

01:30

Oliver

But as soon as you gave it the title "Black Dogs", it changes the image completely. Very noticeably.

Abi

I was gonna say the title was really important, because it doesn't matter because it is a really interesting painting anyway, but until you gave it that title I couldn't see any dogs... but it gives you a lot and you instantly see it.

It's not like "oh it's called two black dogs" and well "where are they?" it's very obviously "oh, okay cool!". But, it doesn't actually matter that you can't see them initially because the mark making is super interesting. Like that is so tasty, a lot of tasty paint going down.

Mark

Tasty paint... thanks!

(…)

Abi

Also, I don't know how you do these - almost bits of muck.

Mark

Which little bit?

02:26

Abi

You this kind of.. it looks like there's a painting that you've painted over.

Mark

Pretty much it.

Abi

Is that what it is?

Mark

Yeah.

Abi

And you've not sanded it down? I like that, I think it works.

(…)

Mark

I agree.

Oliver

It's almost repetitive, the mark making. It's almost obsessively in this downward slashing motion.
There's very little parts that break away from that, it gives it this movement. They're sort of like a haunting presence. A bit ghostly.

02:42

Abi

It's very much coming at you. There is depth, but I don't think you're aiming to give us any depth.

Mark

(Agreeing) No. It's pretty much in your face.

Abi

It's also not a portrait. I know it's dogs, but it's not a still portrait.

03:07

Oliver

It feels quite erratic. It's there as soon as you see it.

Abi

I imagine if you have read the book, it would be very true to what you imagine.

Mark

What would you have imagined at the account of the dog had you not read it, but seen the painting...?

(…)

Abi

It's loud, in my head it's a super loud experience. Where they're not coming at you aggressively per se but really like appearing from the forest...

Oliver

Almost like, is it a dolly shot that they use in...

Mark

-Yeah like where they zoom... where you zoom in and move out.

03:49

Abi

In some art housey film there would be an overlay of some waves crashing that would really get your peripherals going. It is a bit disturbing and it is a bit horrible! Yeah it's not a nice image.

Oliver

I think it's also a bit like the vague nature of the image without the title kinda works to that end if that makes sense. It's an interesting image, it makes you want to look at it. Without the title you could spend quite a lot of time without realising what it is, but with the title it's very definitive of what it is.

Can I ask, was it meant to be two dogs when you started or did it just come to be?

Mark

No, it was over another painting so that's where the hot red comes from. Which is from another painting that wasn't really working but it's quite nice to have like hot red peeking out of it.

So the hard thing with darkness is if you go pure black, it flattens out the whole image. It doesn't look good. So having tiny little shots of colour coming through underneath gives it that depth. Like there's two colours in this painting really from far away but then up close it's all those little colours that peep out that give the depth to the darkness.

Abi

Then the ambiguity that exists in darkness.

05:10

Oliver

Yeah, I was about to say darkness has a way of completely flattening colour.

Abi

Also making you imagine a hell of a lot more than what's really there.

Oliver

I think it works nicely with those peaks of colour that are just popping through. Like you say, it does add that depth and interest to the painting itself.

Abi

If I had to say a criticism I guess it would be maybe that the mark making is all the same size and where it isn't are areas for me that really come out more because it's slightly different. But then again, it is the dark so there isn't really a lot of escape for small marks.

Mark

The scratches are the thinnest marks.

Abi

It's either a scratch or a "big chungus".

Oliver

You could slip in a few smaller marks at the bottom I think.

06:20

Abi
Then you're still adhering to the idea that "that's closer, that's further away because it's thicker".

This is a series of four, is it?

Mark

These are just four that I'm working on at the same time but this is the one that I'm like "that could be a series". So this one is going to expand into a series of lots of paintings of dogs.

Abi

Could this become a part of an extension of "Dog Daze"?
(In reference to 'Dog Daze' 2019, Mark Bletcher)

Mark

Yeah it's kinda similar!

Abi

It's that energy of the "Memory Dog", the dog that doesn't exist. But it does?

Mark

Exhibition title: "Memory Dog"

Abi

"Remember dog?"

07:50

All

*laughter*

(...)